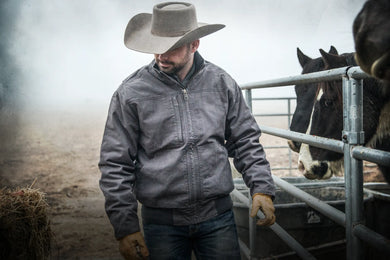 THE COMFORT OF COTTON COMBINED WITH RUGGED DURABILITY AND RELIABLE WARMTH TO MAKE YOUR WORKDAY FEEL EASIER.
Comes worn in, won't wear out
WE IGNORE 'STIFF' INDUSTRY STANDARDS. WE BUILD HIGH-QUALITY, DURABLE PRODUCTS WITHOUT COMPROMISING THE COMFORT OF COTTON.
Canvas OUterwear
WE IGNORED STIFF INDUSTRY STANDARDS AND DEVELOPED OUR OWN CANVAS, THOUGHTFULLY DESIGNED WITH HARD WORK AND COMFORT IN MIND. WASHED AND PEACHED FOR SOFTNESS, IT'S TOUGH AS NAILS, NOT STIFF AS A BOARD.
NO BREAK-IN REQUIRED
BEND IT
ZIP IT
WEAR THE HELL OUT OF IT
HOODED FLEECE
HEAVY-DUTY DOESN'T HAVE TO MEAN UNCOMFORTABLE. OUR LINEUP OF THICK, WARM, AND ULTRA-DURABLE HOODIES ARE UP TO THE TASK AND BUILT TO LAST, TAKING YOU FROM WORK TO WEEKEND—AND BACK AGAIN.
well-crafted shirts
OUR SHIRTS ARE SKILLFULLY CONSTRUCTED FOR MAXIMUM MOVEMENT, EASY BREATHABILITY, AND ALL-DAY COMFORT. DURABLE ENOUGH FOR WORK, SHARP ENOUGH FOR THE WEEKEND.
comfort stretch
breathable
hats, bags & Gear
OUR HIGH-QUALITY ACCESSORIES ARE ENGINEERED TO TAKE YOU FROM WORKDAY TO WEEKEND IN FUNCTIONAL COMFORT AND VERSATILE STYLE. WE'VE GOT THE RIGHT GEAR FOR ANY JOB OR JOURNEY—NO MATTER WHAT THE DESTINATION.
We provide better options for real, hardworking folks who power through and persevere under tough conditions — and deserve high quality workwear that does the same. Our lineup includes a wide range of fabrics, functionality, and styles, all built to give you just the right level of weight, warmth, and unwavering protection, on or off the job.