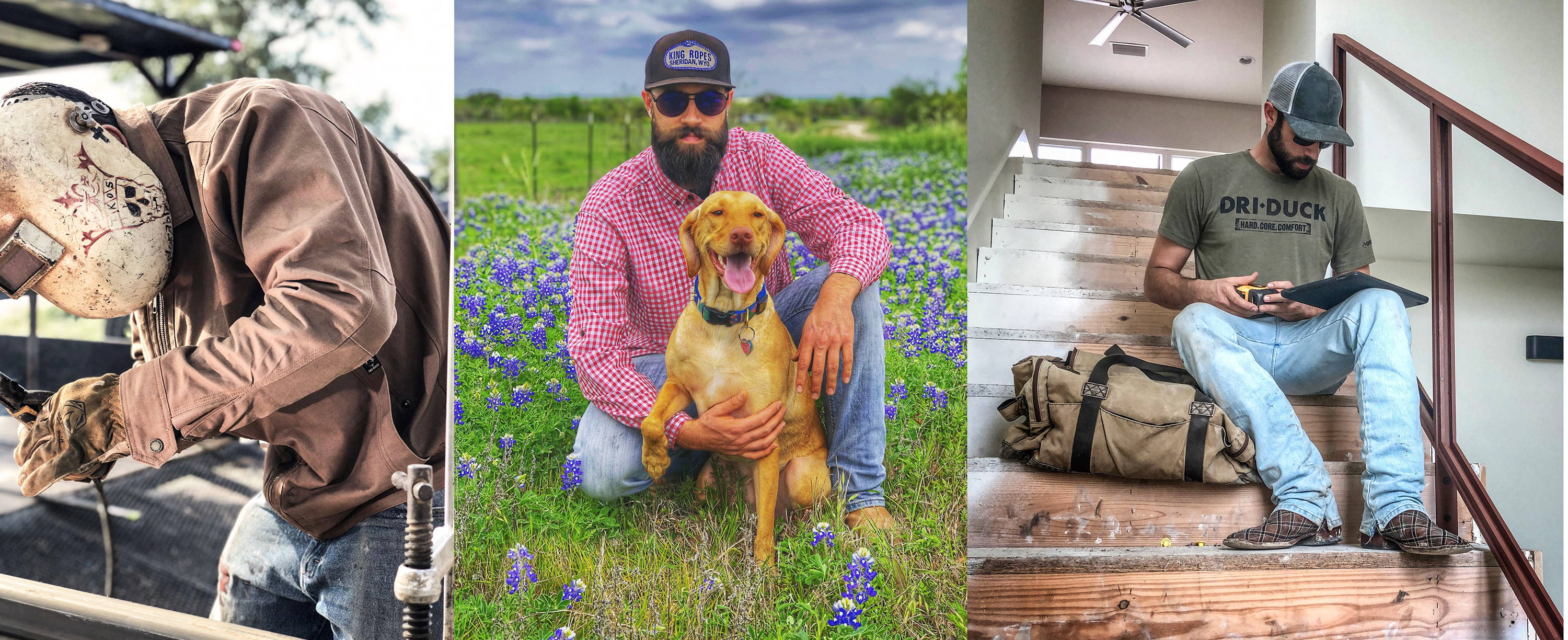 After a few years in college, attempting to decide how he was going to meaningfully contribute to society, Luke realized that sitting in a cubicle wasn't how he was going to leave his mark or keep himself happy. As long as he can remember, Luke was building things. He took that passion to welding school. "I actually never knew about the amount of metal in homes, especially high-end customs. I moved to Austin with no job or anywhere to live – just me and my welding rig."
For the past five years or so, he's been grinding his teeth in the custom welding side of Texas – residing in Dripping Springs and working in Austin.
Luke is the type of guy to drop just about anything to lend a hand and not leave until the task is completed to the highest quality. Whether it's changing a tire on the side of the road or helping someone move across the country, he'll be there with "a bad joke or a shoulder to lean on". In short, he's DRI DUCK's not-so-resident handyman.
Luke prides himself on never doing the same thing twice, which keeps things in his life interesting. What he enjoys most is that everything he builds, no matter how big or small, represents him leaving a piece of himself in the project. "When I'm long gone a part of me is still there being used every day, that's really cool!" he says.
As time passes, Luke has found himself welding less and less and doing more designing and bidding projects as well as meeting with clients, builders, architects, and engineers. However, every free moment he gets he'll run down to the shop, drop the hood, and weld. He is currently the lead fabricator/designer at 1863 Building Co. – a firm specializing in architectural welding in high-end custom home builds in central Texas. They do everything from custom light fixtures/chandeliers, furniture, windows, doors, landscape – the list goes on.
Luke has been working with DRI DUCK since late 2017. "To find a company that works as hard as Dri Duck is impressive and rare. In my line of work and my lifestyle, I go hard as long as I can and I expect my tools to do the same whether it be a truck, a phone case, a pair of boots, but especially my clothing. That's why I trust Dri Duck. When you can't afford things to break down in the middle of a job you need products that can withstand the harshest environments from below freezing February's in the mountains of Big Sky Montana to the blistering heat of July's in Texas."