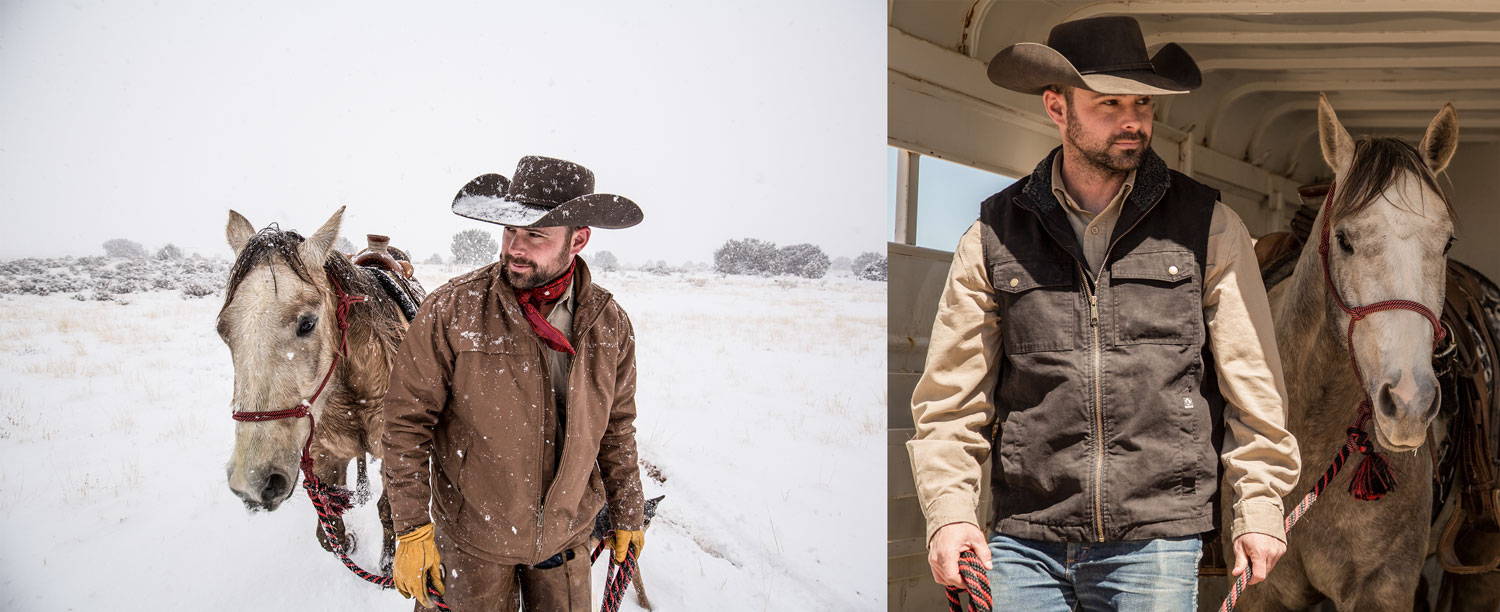 Chris Petersen is not only a rock star photographer and cowboy, but an up-and-coming country music artist with a unique angle. Growing up in a small town in the heart of the Rocky Mountains, Chris grew up working for his grandpa on the farm building fences, chasing cows, digging ditches, and anything else that needed done. Chris developed a love for horses, and everything about the cowboy lifestyle. He was drawn to the old cowboys around town who took him under their wing and taught him about horses. Chris built a love of starting colts and building confidence in young horses. By combining his love for horses and a love for art and photography, Chris started Diehard Cowboy–A company built to share the cowboy lifestyle and his authentic music with others. Chris spends as much time as he can riding horses and starting colts. Chris also works for several ranches to get a reprieve from his regular schedule. Hard work was something instilled in him since the beginning, which is what he credits for his music career.
Earlier in life the fear of singing in front of other people kept him from getting on stage. Chris would often write songs while driving, or riding his horses, but singing would only happen around his close friends. Eventually, Chris started writing and recording the songs that he had written but they were only heard by those in his inner circle. A turning point came when Country Musician, Collin Raye, heard a burnt CD of a few of Chris' songs. Collin asked if Chris would be willing to open an upcoming concert for him. The night of the concert came and Chris faced his fear, took the stage, and sang to a hometown crowd. The rest is history.
Chris Petersen's authentic cowboy blend of country music has given a voice to fans who have felt left behind in the age of pop country. With a sound reminiscent to country songs of the 90's, Chris has drawn influence from artists like Chris Ledoux, George Strait, and Merle Haggard. With hard hitting vocals that cut above the driving beat of the band, Chris Petersen's performances stand out to create a fun, foot stomping experience. Chris wanted to make music that would go hand in hand with his love for the cowboy lifestyle.
Chris has always loved images and got his start in drawing western and wildlife images. Ever since he can remember he was drawing pictures of horses and the cowboy life. At the age of 21 Chris had pen and ink drawings in galleries in Jackson, Wyoming and was working as a professional artist. About that same time Chris also got a job doing graphic design and video production work. This added cameras into his life, and he soon began photographing life with horses and ranching. Chris spent a little over 10 years doing cowboy photography.
When it comes to a day-to-day regime, Chris doesn't exactly abide by constrictions. Any day could consist of writing music, doing graphic design, or editing videos. If he's not in the office he's probably in the mountains riding horses, taking pictures, or playing a concert.
Chris just released a new album, "Cowboy Coming Home."
Check out our t-shirt collaboration with Chris here.
Why We Must Take Care of Our Veterans, "He Still Pays the Price"